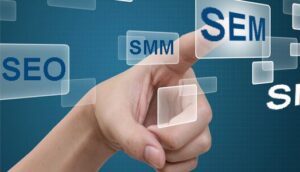 If your business is present on the web, or planning to be, you've likely come across the terms SEO, SEM, SMO, SMM… What do these acronyms mean? The first two relate to search engines, and the latter two to social media. Let's take a closer look at them.
The ultimate goal for all businesses on the web is, of course, to appear in the top search results. We want traffic on our website that translates into sales. But which sites get a better ranking?
In order for your site to be found by internet users, it first needs to be indexed. This allows search engines like Google to know of your site's existence!
There are two ways to appear at the top: organically (in a "free" manner) and through paid methods.
SEO — Search Engine Optimization
Or optimization for search engines. Or organic referencing.
In other words, it means thoroughly optimizing a website's content so that Google gives it a "good grade" and places it on the podium of well-referenced sites. Done well, the site should appear in the top results on the first search page.
Among the elements that generally need to be optimized are:
Keywords found in your titles and text throughout the site (meta titles, meta descriptions, etc.)
Image titles and descriptions
Keywords in the code
And more.
Other factors that impact the site's "score" and can be worked on include:
Website loading time
Frequency of content updates
Responsiveness
Unique content (no copied content from another site or even the same text duplicated on different pages)
Backlinks from other sites
Overall user experience
And more.
SEO requires a significant time investment upfront but should generate high-quality clicks over the long term. However, it might be slower to yield results.
The challenge with SEO is that it's a constant ongoing effort. Every time Google's algorithm changes. Every time a competitor optimizes their site. This work requires a substantial time investment initially and also demands frequent updates to remain at the top of the results. The competition is never-ending!
SEM — Search Engine Marketing
You might also come across the term SEA: Search Engine Advertising.
Search engine marketing… it's when a company pays to appear in the top search results. These results will be labeled as "Ad" or "Sponsored" next to them. Each time a user clicks on the link, it costs a certain amount to the advertiser. You'll also need to identify the keywords your potential customers are searching for.
The advantage of SEM is that results will likely be quicker, but over a shorter period unless you consistently invest in a campaign. And campaigns can quickly become expensive!
SMO — Social Media Optimization
Similar to SEO, the goal is to promote your products and services, drive traffic to your site, but using different platforms like Facebook, Twitter, Instagram, a blog, etc. The posts you make aim to grow your audience, increase visibility, and direct customers to your website.
A presence on one or more social networks can indeed bring traffic to your site, which might be converted into sales. A well-structured and effectively used profile can help you gain recognition and establish contact with your customers. However, it's essential for this profile or account to be seen by others.
Let's take Facebook, for instance. How do you appear more in the news feeds of your current and potential customers? Not easy with the algorithm! Indeed, Facebook suggests Pages to users based on their likes and web search habits, among other factors.
SMM — Social Media Marketing
You might also come across the term SMA: Social Media Advertising.
Social media marketing involves using platforms to connect with your audience and increase sales through advertisements. SMM is to SMO what SEM is to SEO! In other words, advertisers pay every time you click on their ad. The posts appear to you with the label "Sponsored."

To maximize results and investment, using all these techniques cannot be done blindly or through trial and error. First and foremost, one must consider the objectives and target audience. Validate which method is best suited for one's situation. Develop a strategy, an action plan, and allocate a budget!
Of course, we can help provide clarity in this regard! We can also assist in managing your web marketing, either entirely or partially.