ux/ui design and

web integration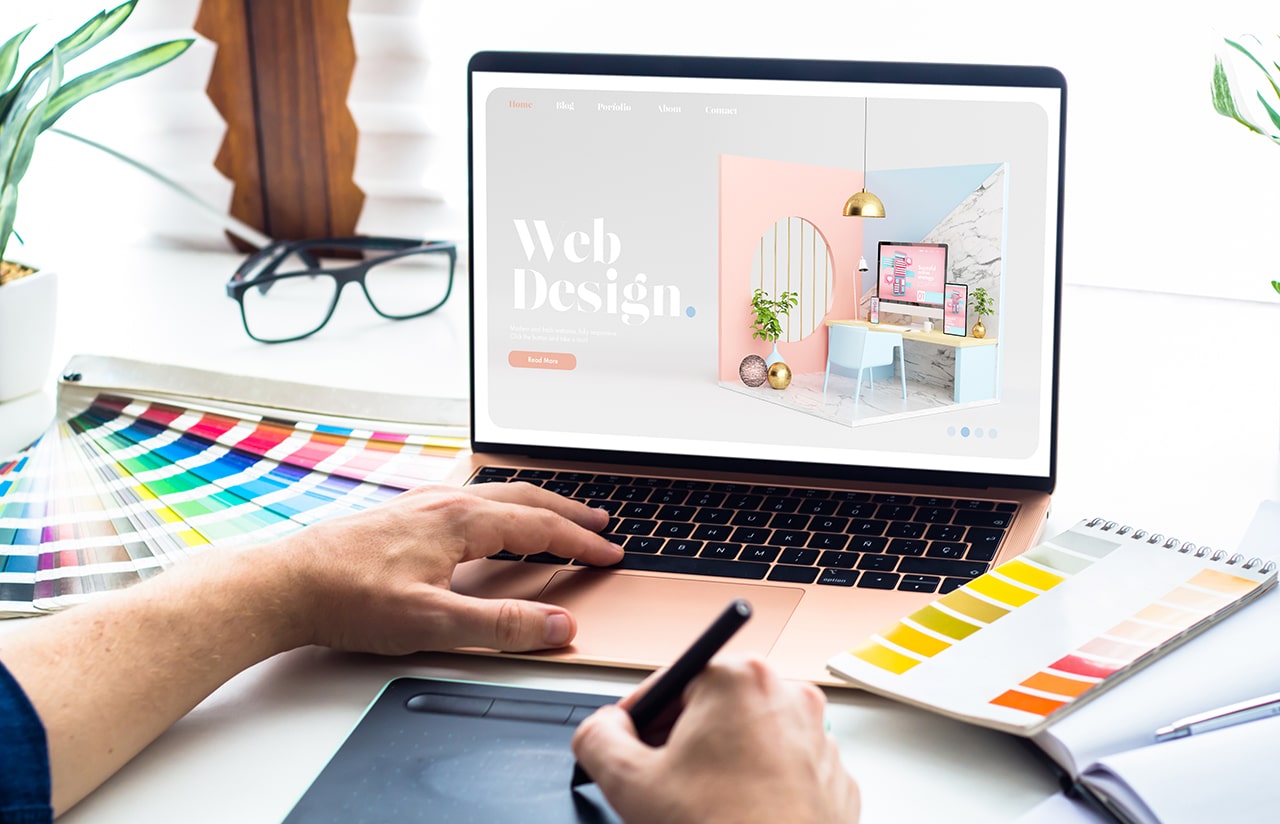 Advances made in the tech industry and the internet have led to improvements in every industry and sector of activity. Today, if a company wants to grow and succeed, they need the right digital tools. There are currently myriad ways organizations can embrace digital environments to enhance the quality of their services. Web agencies are a perfect example. But what can they do for companies? Read on to find out more.
Let us guide you. Why don't you contact us to discuss your project?
WEB DEVELOPMENT
When you decide to partner with a specialized agency, one of the main services you'll be able to benefit from is Web development and integration.
Website design and creation
Want to launch your own business and need to make sure it benefits from an optimal online presence? Our Web specialists will be more than happy to help you achieve your goals. We'll be able to build a customized website that meets your specific expectations. Whether you need a portal or a way to showcase your products, you can personalize your website in line with your tastes, vision, and needs. From its visual appearance to configuring more complex settings, we'll build and deploy the website that suits you and your company.
And if you want to sell your products online, we can build an e-commerce site from the ground up. We'll also take care of maintaining and updating your site to make sure it remains efficient and attractive to Web users. Our integrators will also be able to introduce new features to your page at any time to improve its UX design.
Web hosting
Once you get a professionally designed website, you need to think about where you want it to be hosted. Website hosting is basically the space where all the data associated with your virtual organization is stored. That's where Web users go to access your website, making it a key element of your online process. Our agency can provide you with a stress-free solution thanks to our reliable Web hosting services.
We own our own servers and we can guarantee your website and its data will be secured. We'll also take care of carrying out any maintenance work and monitoring the settings to make sure your platform remains effective. At the end of the day, it's all about making sure your online presence remains uninterrupted.
Website content
You have a visually attractive website. But it's not enough. You need the right copy to keep your audience engaged and generate a maximum return on investment. When you contact 10RUPTiV, you'll be able to benefit from professional copywriting and proofreading services. Our team's copywriters are adept at producing simple, effective copy.
As for our proofreaders, they'll go over the copy and correct any mistakes. We can also provide proofreading services if you want to enhance copy you've written yourself. If you want to regularly reach out to your current and potential customers, we've also got you covered with our newsletter writing service.
MARKETING AND SEO
Once your website is ready to launch, you need to make sure it will be listed at the top of search results to attract more Web users. With this in mind, you should set aside part of your budget for online marketing. This strategy uses certain techniques in the goal of increasing your reach across the Web.
Organic referencing
Also known as SEO (search engine optimization), organic reference is a term that is applied to all the myriad techniques used to attract Web users to a website and turn them into clients. SEO is all about increasing your site's visibility by optimizing it for search engines. When you contact 10RUPTiV, you'll benefit from our in-depth skills to help your website attract more users. The expert who will be in charge of your platform will be able to increase the organic referencing of your website. Some of the ways they can achieve this include producing high-quality content, inserting the right keywords into the copy, optimizing the user experience, external linking, and more.
Paid referencing
Search Engine Advertising, or SEA, is a solution that's used to advertise your company online. It works as a kind of auction system and is a strategy that will help you optimize your campaigns on search engines. 10RUPTiV is an expert in SEA and will help make sure your investment is a profitable one.
SOCIAL MEDIA MANAGEMENT
Social media is no longer something companies who want to succeed can ignore. It is now a vital part of any corporate strategy to reach potential customers. In other words, you need to be part of the social media landscape. If that seems daunting, our social media management specialists are here to help. With their guidance and support, you'll be able to connect to billions of people, some of whom are potential clients.
In sum, social media is a way for you to reach out to users and offer your services and products. But which social media channels should you sign up for? The most popular one is undoubtedly Facebook. You can use this platform to deliver targeted ads. As for Pinterest and Instagram, they're practical tools for publishing photos of your products. You can also use them to communicate with prospective clients. Social media offers you a unique opportunity to build relationships with users and turn them into loyal clients. If you want to get the most out of social media, rely on a specialist or a community manager.
GRAPHIC DESIGN
Graphic design is another important aspect of a website. It will allow you to attract users and turn them into loyal customers.
Intuitive, modern visual design and Web experience
Customer experience is a vital element of your corporate image. If you impress your customers, you'll be more likely to sell your products and services to them. That's why you need to make sure your Web presence is visually attractive. How do you this? A graphic designer will take care of making every part of your platform as aesthetically pleasing as possible. They'll also be able to incorporate responsive design, making your online presence accessible for any type of user.
Printing services for promotional products
To stand out on the Web and on social media, you need the right tools. With our printing services, you'll be able to show off your brand image on any platform. Think about creating a logo, posters, and flyers showing off your organization. Items like business cards, envelops, and labels are also a good way to communicate with your audience.
In brief, there are myriad Web services available. They can all work together to enhance the quality of your services. Get in touch with our specialists today and increase your bottom line.