PointPub Media has been involved on numerous occasions in the construction of offices or factories for our clients. Here's how the initial stages of the project unfold.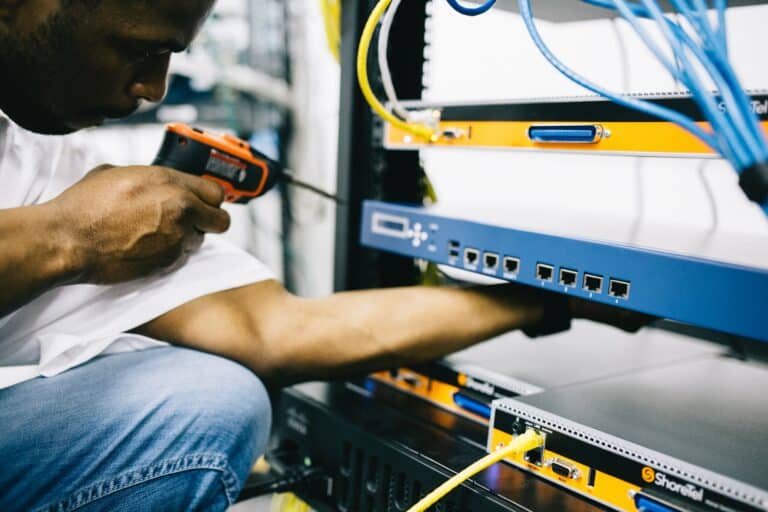 We go on-site with the architect, and the IT team makes requests regarding the necessary equipment. Once the architect has completed the plans, they are presented to the clients, and we review our requests again, as there are often misunderstandings during the review stage. Then, we ensure that everything is being adhered to. Among all the requests, we communicate the company's needs. After that, the construction work begins. Throughout the stages, we make regular visits to the construction site. The most critical visit is before pouring the concrete slab, I would even say for each pour, as there can be multiple concrete pours if the factory area is large. After the pours, if there are any modifications or errors, it's too late!
To conclude, we inform the client and the site foreman about our needs for electrical wiring, electrical outlets, air conditioning, surveillance cameras, etc. until the end of the project.
IT thinks of everything, such as office layout. It can anticipate errors if the electrical outlets are in the right places. It can also add network outlets as needed. The advantage is that on moving day, we don't have to finish the cabling work. We just need to plug in the network equipment; most of the work is already in place.
But why is it necessary during construction and/or relocation?
Our work facilitates the connection with external service providers, such as Bell.
The IT team plans the electrical layout, underground conduits, and overhead conduits in the design. In fact, everything related to both the interior and exterior of the building or factory construction.
Their work streamlines the deployment of certain elements in the facility, especially for longer distances. They can also plan the required cable lengths and even provide approximate costs.
They also plan the installation of floor monuments.
They can coordinate with electricians in some cases to ensure conduit placement.
It significantly simplifies workstation cabling. IT can pre-wire when walls are still open.
The addition of surveillance cameras can be done as needed, both indoors and outdoors.
It facilitates the relocation of the server room, but there are prerequisites: electricity and cooling systems must be in place.
IT professionals are here for you, and they think of everything! They make your daily life and your company's operations easier during construction and/or relocations. This is a highly dynamic field that consistently showcases creativity. Therefore, it's essential to continually educate yourself and stay informed to avoid being left behind by technological advancements in equipment and techniques.
To successfully execute a relocation and/or construction project, it's necessary to entrust it to a technology expert, such as PointPub Media. Discover what we offer in this field to help you optimize construction, relocation, and overall business management!