One of PointPub Média's major projects in recent years has been the development of an ERP (Enterprise Resource Planning) system for a customer.
As the company's needs were specific to its field and activities, no single system or software could fully satisfy the customer. With our expertise, we were able to program a tailor-made system, coded from A to Z by our team.
Programming an in-house solution can sometimes be more financially advantageous for the customer than buying or subscribing to a license for existing software.
How it works
Once users have logged in, a multitude of actions are possible.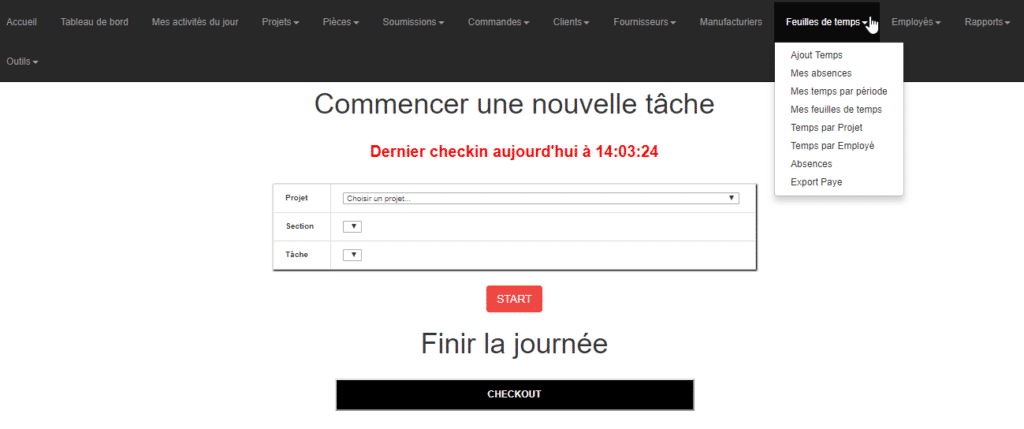 Employee management
For human resources, this section facilitates their work:
Each employee can enter the time worked during the day by starting and ending tasks.
This allows hours to be directly recorded, facilitating the calculation of employee pay.
Leave requests, which are then approved or rejected by supervisors.
Depending on the rights granted to individual employees, certain tabs or actions may not be accessible to them.

Project management
Whether it's the start of a project, with requests for quotations or orders, or the completion of the project itself, every step of the way goes through ERP:
Requesting quotes from suppliers
Project creation: when a project is created, the customer creates a project in the system. Since they are made in stages, different parts of the project are also created and called sub-projects. When managing projects, supervisors can manage the applicable sub-projects and task types.
Parts ordering
Import parts lists required for a project
Parts receiving management
Customer management
Supplier management

Analysis
Cost calculations: The ERP system allows for analyzing estimated project costs and comparing them with actual costs, considering both human and material expenses.
Based on client requests, the information can be exported to an Excel spreadsheet to facilitate the necessary analysis.
User Manual
A user manual has also been created, enabling users to refer to it as needed. Whenever a new function is added or updated, the manual is also revised.
Multiple Possibilities
Nearly anything is achievable when the required time and resources are provided. Some actions are relatively quick to perform, while others require more maneuvers within the database, as multiple fields are affected. Furthermore, no information is lost in the database; there are only different ways to process the information.
Always committed to providing an efficient and relevant tool to our clients, the application is constantly evolving to adapt to changing realities over time. For nearly 2 years now, we've been enhancing the application and introducing new features.
Contact us to explore the possibilities for your business!